Crowdfunding Campaign: Kanal 82 – Feminist Web-Comedy on Turkish TV
When reality gets grim, make up a better version of it. Or a grimmer one. Or funnier. Something to remind you that things can always be different. Support the Crowdfunding Campaign for Kanal 82 – a Feminist Web-Comedy on Turkish TV
What's it all about?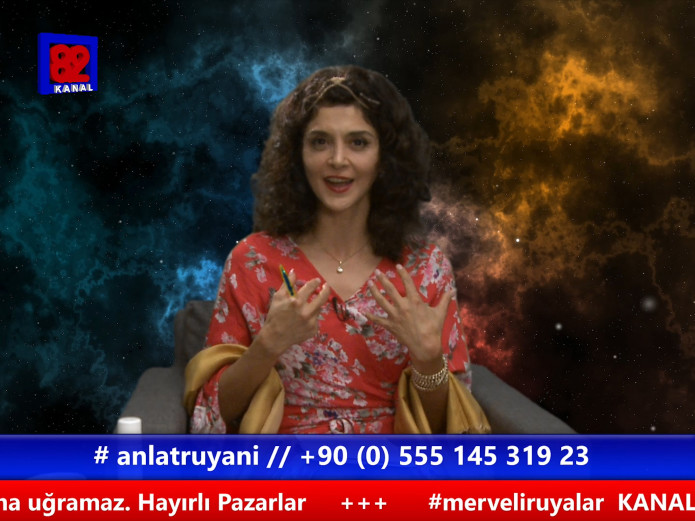 We are asking for your help to finish the first season of our web-comedy KANAL 82 – and thus show your support for liberal voices under threat in Turkey today.
KANAL 82 tells the behind-the-scenes-story of a local TV station in a fictional small town in Turkey, mainly broadcasting light entertainment. Having no experience in "serious journalism", one day the channel's exclusively female crew is caught up by a horrific event – too horrible to be mentioned here – which all the big media organs corporations self-censor immediately. Only Kanal 82 broadcasts live and uncut.
The web-series is a running comedic commentary on the distressing and often chaotic twists and turns of recent politics in Turkey, with it's crackdown on free media, leftist political opposition and liberal freedoms. It tackles issues like the aftermath of the failed coup from 07-15-2016, the militarization of Turkey's society and the effect the economical crisis has on the average people.
KANAL 82 is witty, it's critical and it doesn't shy away from talking truth to power. And it is a decidedly feminist series, casting seven strong female leads against the seemingly all-powerful alliance of state authorities, corrupt businessman and a censored press.
The first five episodes of the series have been written, developed & produced over the course of the last 13 months. Spoken language is mostly Turkish, with English and German subtitles.
To finish the first season, we have to shoot two more episodes – and for this we are calling for YOUR support. After a short festival run, the series will be made available online & free around mid 2019.
Who we are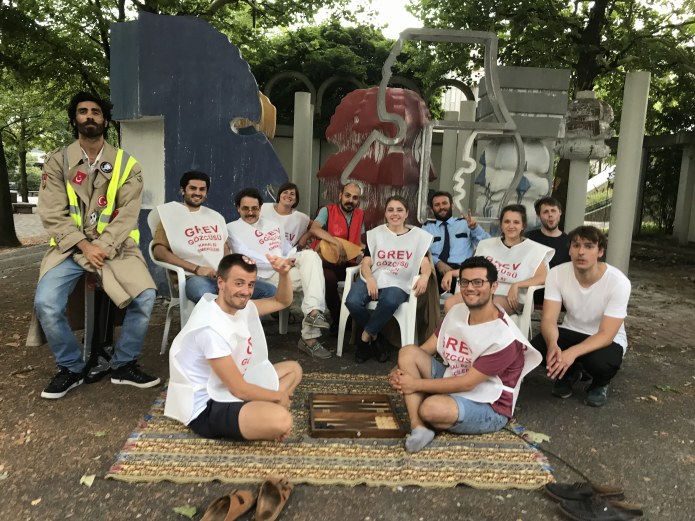 KANAL 82 is the outgrow of a long history of migration and cultural entanglement. The series is produced in Berlin, Germany – from the midst of the biggest community of Türkiyeli (people from Turkey) outside of Turkey.
Our creative team comprises individuals from all walks of lives, Turkish-Germans born and raised in Berlin, Türkiyeli  who recently arrived for political reasons and Germans.

We – Zeynep Tuna and Nino Klingler – are the series' writers and directors. Zeynep (born in Eskisehir, Turkey) is a specialist in Turkish popular culture and a digger for the weirdest Found Footage around. Nino (from a small town in Southern Germany) is both a film director and a prolific reviewer, with more than 300 published texts to date (albeit mostly in German).
We met in Istanbul over ten years ago and have since been working on many different projects in many different media together, including experimental found footage on Turkish sexploitation films, a short fiction on gay romance and many more.
Currently, we are fellows at the Graduate School of Berlin's University of the Arts – a wonderful program allowing artists to work on a project for two years. With KANAL 82, we got accepted as a team to realize our vision of a fictional TV station somewhere between Turkey and Germany…
What happened so far…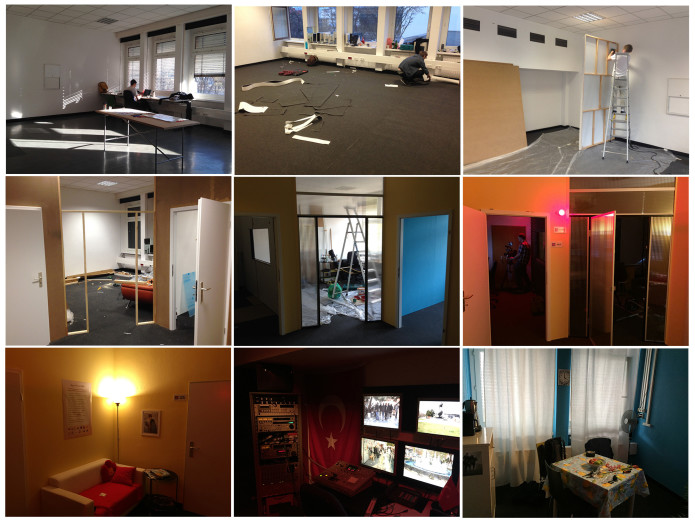 Over the last 18 months, we have built a working TV studio in our atelier in the University of Arts – check out this very short introduction to the heart of KANAL 82.
We have gathered a wonderful group of people to help us in front & behind the camera – including our marvellously charismatic and talented main actresses.
Over the last year, we grew together as a team, sharing a vision and a political conviction.  We also had to overcome some hardships – especially the unexpected and painful loss of Zeynep Delibalta, a wonderful person and gifted artist who was acting as one of the leading characters in the first two episodes. She is sorely missed. It is in her memory that we continue to work double as hard to finish KANAL 82's first season.
Just one step away…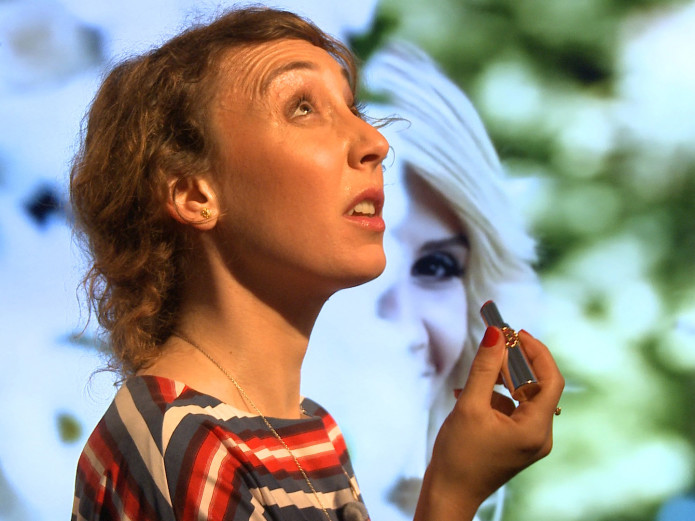 Together with our amazing team & crew we poured all our love, energy and commitment into building our set and shooting five episodes of 10-15 min each. We are one week of shooting  away from finishing the first season of KANAL 82. The crew is ready, the set is ready, the equipment is available – but the money has run out. The limited resources provided by our university have all gone into getting as far as we are now.
So we need your help to shoot two more episodes. The largest chunk of the money will go to our amazing team. We do not only love the people we are working with, we respect them. They believe in our project so much that they accept possible risks for themselves and their loved ones. Most of us have family in Turkey, and everybody knows stories about persecuted artists, journalists, activist. But still they work for KANAL 82, in front of and behind the camera.
In our opinion, this kind of commitment deserves recognition. No one can live from passion alone. We live in a capitalist world. People who make art have to be able to support their lives from it, to whatever meager degree. This crowdfunding campaign is for them.
So we call upon you to support KANAL 82, support alternative voices in Turkey, support political diversity – and become a part of a community. If you look at our perks you will see: Your contribution is much more than a financial backing. It's becoming part of KANAL 82's team. It's showing a flag.
See the diagram below for a detailed breakdown of how we want to spend the money. If we do not meet our goal entirely, we will distribute what we have among everybody.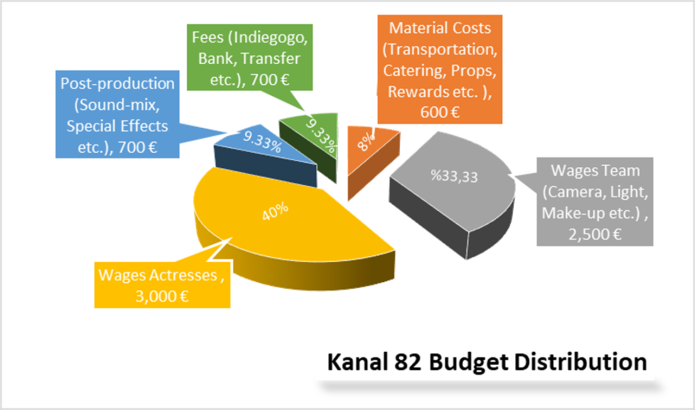 Some words on politics…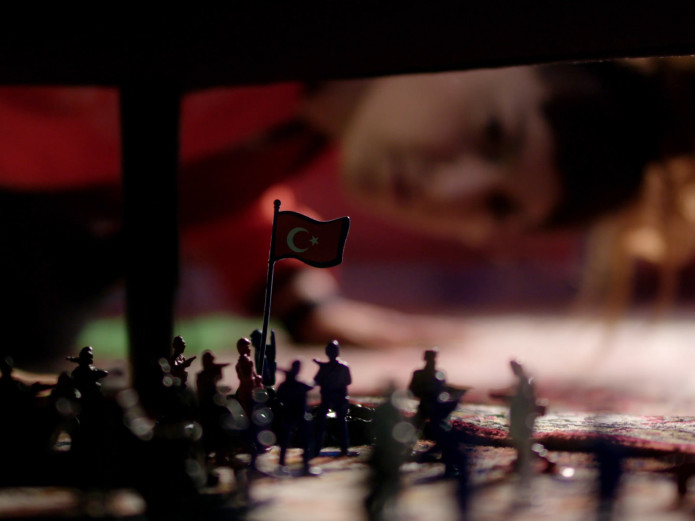 You've probably heard about it: Turkey is sliding down a vicious spiral of economic, political and social crisis at the moment. There is a war being waged against the Kurdish minority in the country's southeast (and Syria's North), critical voices in the media have in large part been silenced through police persecution and political influence, and the authoritarian prime-minister-turned-president on top (whose name we will never mention) has just fulfilled his masterplan to turn Turkey from a emerging democracy into a one-party, one-person quasi-dictatorship.
The reality looks grim. The lira, the Turkish currency, is rapidly losing value as social unrest is growing between the majority and the many minorities in the country (Kurdish, Alevis, Syrian refugees). But the state-controlled mainstream media have so far succeed in shifting the blame for the country's malaise from its corrupt elites to diverse "foreign powers" (Israel, the US, Europe….). Turkey is more and more living in an alternative reality of ever-evolving conspiracy theories, with new villains popping up constantly and ever stranger plot twists happening on a daily basis. One would be tempted to call it the world's most ridiculous soap-opera – if it wasn't so dead serious…
Why TV?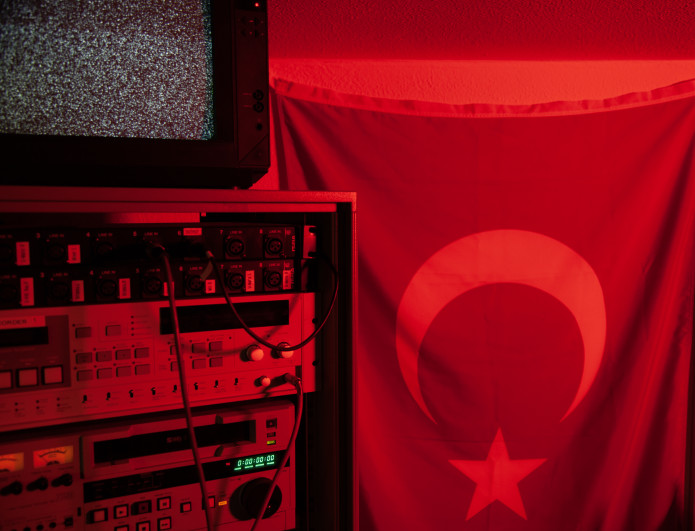 Television has a large part in establishing this thwarted worldview since it is undeniably the dominant medium in Turkey. The average Türkyeli (Person from Turkey) watches six hours per day (according to the Statistical Institute of Turkey, TÜIK). The result is that "the overwhelming majority of the population in Turkey gets their news not from newspapers, but from television". (The quote was taken from a – highly recommended – report by Human Rights Watch entitled "Silencing Turkey's Media").
And what a kind of news that is: A recent media monitoring showed that self censorship and sponsored content abound in an environment where media houses are part of diversified conglomerates also dealing in construction, manufacturing and real estate. And one of the biggest investors is the Turkish state. So obviously, bosses who are eying for government contracts have a strong interest in having their news teams show the country's leadership in a positive light.
KANAL 82 boils these issues down to a local level to make them both understandable and funny. It's about series about small channel, owned by a crook who is dealing in newsmaking the way he is dealing in everything else: Only to further his interest. But he hadn't reckoned with the women working for his channel…
The Trojan Horse of Comedy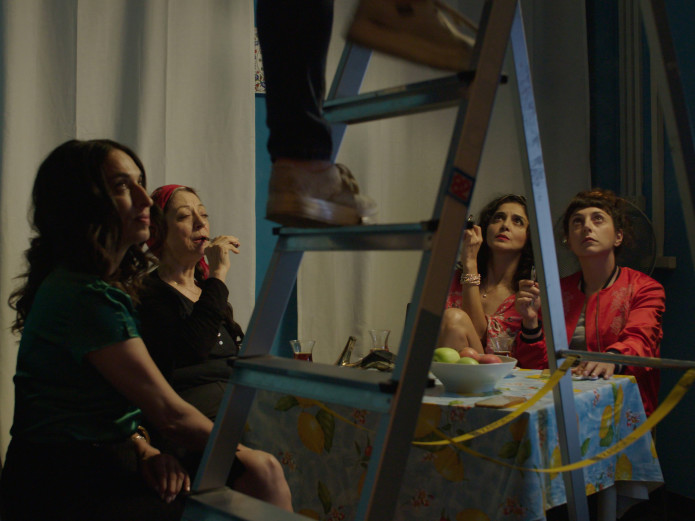 You know the one about jokes and frogs? Here goes: Explaining jokes is like dissecting a frog. It's ugly and the frog dies. So better don't do it.
Nevertheless, we think some explanations are in order as to why we chose to treat grim "-isms" like sexism, authoritarianism or nationalism in a comedic fashion. One could say: Looking at 100.000+ political prisoners, an economy on the verge of collapse and toxic social hatred, there isn't a lot to laugh about in Turkey today. The country is, like many societies at the moment, politically deeply divided.
So we were asking ourselves the question: How do you address polarizing issues – like what the role of women should be in a predominantly Muslim society, or how journalistic media should cover political issues – without polarizing the already polarized society even further?
And this is where comedy comes in. We love the slapstick of Charlie Chaplin, Buster Keaton, the Marx Brothers and also Samuel Beckett. Because everybody can laugh about their jokes. And because the issues at the heart of the jokes are sometimes surprisingly grave: Poverty, loneliness, exploitation.
So we see comedy as something like a Trojan horse: KANAL 82 is deceptively lighthearted in tone, but with serious issues in mind.
Why Berlin?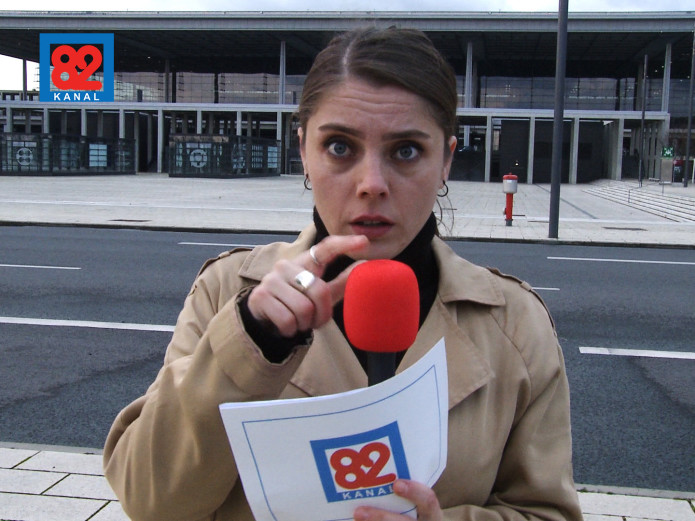 For the last decades, Berlin has often been a safe heaven for Turkey's opposition. Groups of politically persecuted people moved here during the political turbulence of the 1970s, after the 1980's coup, during the Kurdish uprising in the 1990s and again now in the wake of the recent anti-democratic transformation of Turkey, especially following the crackdown after the failed coup attempt of 15th July 2016. The exodus of critical journalists, academics and artists, many of whom come to Germany with its big Turkish-speaking diaspora, has been called a "brain drain" or "New Wave" by the German media. In Berlin, one can find cutting edge thinking about and artistic engagement with contemporary issues of Turkey.
But this is only one side of the coin: In Germany one also encounters strong factions of supporters of the prime-president and his party AKP (in the presidential election of June 2018, 66% of Turkish-German citizens voted for Erdoğan, compared to only 53% in total). These people often rightfully criticize what they perceive as a condescending approach of the West towards their home country.
Berlin, sometimes dubbed "Little Istanbul" among the Turkish-speaking community, often appears like an unofficial province of Turkey, encapsulating the whole social, cultural and political spectrum of Turkey.
Other Ways You Can Help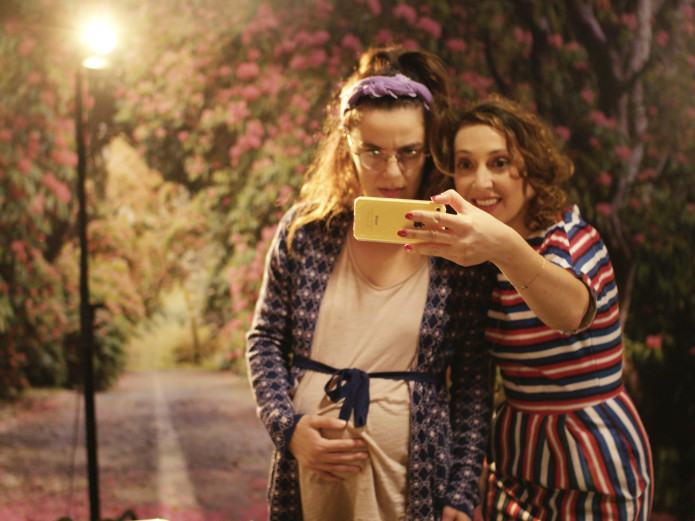 We know the world of culture, we know Turkey, and we know the combination of both. In other words: We know money can be tight, especially if a project is asking for a contribution in Euro when your local currency is losing value on a two-digit level every day.
So if you can't or won't contribute to our project financially, we understand 100 %. But if you like what we are doing, please know that there are other ways to support us.
It all boils down to this: Spread the word! Let your community know, share our campaign with your friends on- and offline, use the tools of indiegogo. We are thankful for every post, every like and every word-of-mouth-moment.
Text/Images: Indiegogo/Kanal 82